The Norwegian ski resort of Hafjell has direct access to 33km of downhill skiing, with 28 individual pistes, served by 12 ski lifts. The third largest resort in Norway, Hafjell had the honour of hosting slalom and giant slalom alpine events at the 1994 Winter Olympics, and is also linked into a remarkable network of cross-country trails.
Skiing in Hafjell
The ski area in Hafjell has now been extended and a new high speed state-of-theart gondola operates directly from the resort base. Here you will find almost 40km of piste. The other main area which we recommend to visit is Kvitfjell, 30 minutes drive beyond Hafjell. Kvitfjell is home to the Olympic mens downhill and boasts close to 30km of pistes. Both resorts offer floodlit skiing in the early winter when darkness falls and slopes are generally open until 8pm. A truly excellent area for the absolute beginner and beginner intermediate. Excellent snow conditions will ensure fast and heartening progress for all levels of skier. Transfers from Lillehammer to Hafjell are included, transportation to Kvitfjell will carry a supplement.
Après Ski

Lillehammer Cinema
Take a break from the snow and take in the latest flick (in English, of course!)!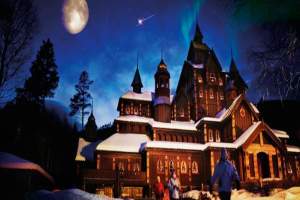 Hunderfossen Winterpark
Winter fun at its finest – take in spectacular attractions such as the Ice Hotel, the Ice Cathedral and Ivo Caprino's Fairytale Grotto at this fantastic amusement park!
Swimming Jorekstad
Your students can enjoy a dive in the pool, as well as fun on the water slide or the climbing wall!
What's Included?
Return flights
Transfers to/from airport to hotel
7 nights bed & breakfast
7 evening meals
6 day lift pass for designated area
6 day ski & boot hire
6 day helmet hire
20kg Baggage Allowance
1:10 free place ratio
Travel VAT
6 day x 2hrs (ROI) or 4hrs ski lessons (NI/UK)*
Bag carriage on outbound and return flights
All Irish/UK & applicable foreign airport/ passenger tax
Comprehensive standard ski travel insurance
Airport & resort representation
* Based on typical packages, some may vary. In Norway, ski lessons are 6 x 90mins (ROI) or 6 x 180mins (GB) and Northern Ireland